Kick off the decade with color and contrast! In 2020, prepare for daring hues, the comeback of wood elements, powder rooms with pizazz, and cabinetry that goes against the grain! That's right, just as the "Roaring Twenties" were, expect to see design that's bold, daring, and full of life! Remodelers, designers, and homeowners alike are incorporating these trends into their homes and the results are inspiring to say the least! Below, find some of our favorite trends of the year!
Black & Blue – Blue cabinetry continues to be a popular choice amongst homeowners, as its versatility can be paired with both warm and cool-color pallets. Blue's amplified popularity has also earned itself the title of being Pantone's Color of the Year! It's widely being accepted into kitchens, bathrooms, and décor. But, what may come as a surprise is the popularity of black this year, too! The color may seem daring, but the contrast created is what kicks it up a notch! Black paint, cabinetry, and countertops have all been seen in recent home designs and are predicted to be heavily incorporated in home remodels, particularly in bathrooms!
Slab backsplashes – If you've never been too keen on grout lines, then consider a slab! Not only do slab backsplashes present a clean, unobstructed view, but the continual pattern & movement makes for a striking design feature. The beauty of natural stone is that no two slabs are the same; for 2020, make this unique element custom to your home. BONUS: Opt for a trip to the stone yard or warehouse to help the best pick the perfect slab for you!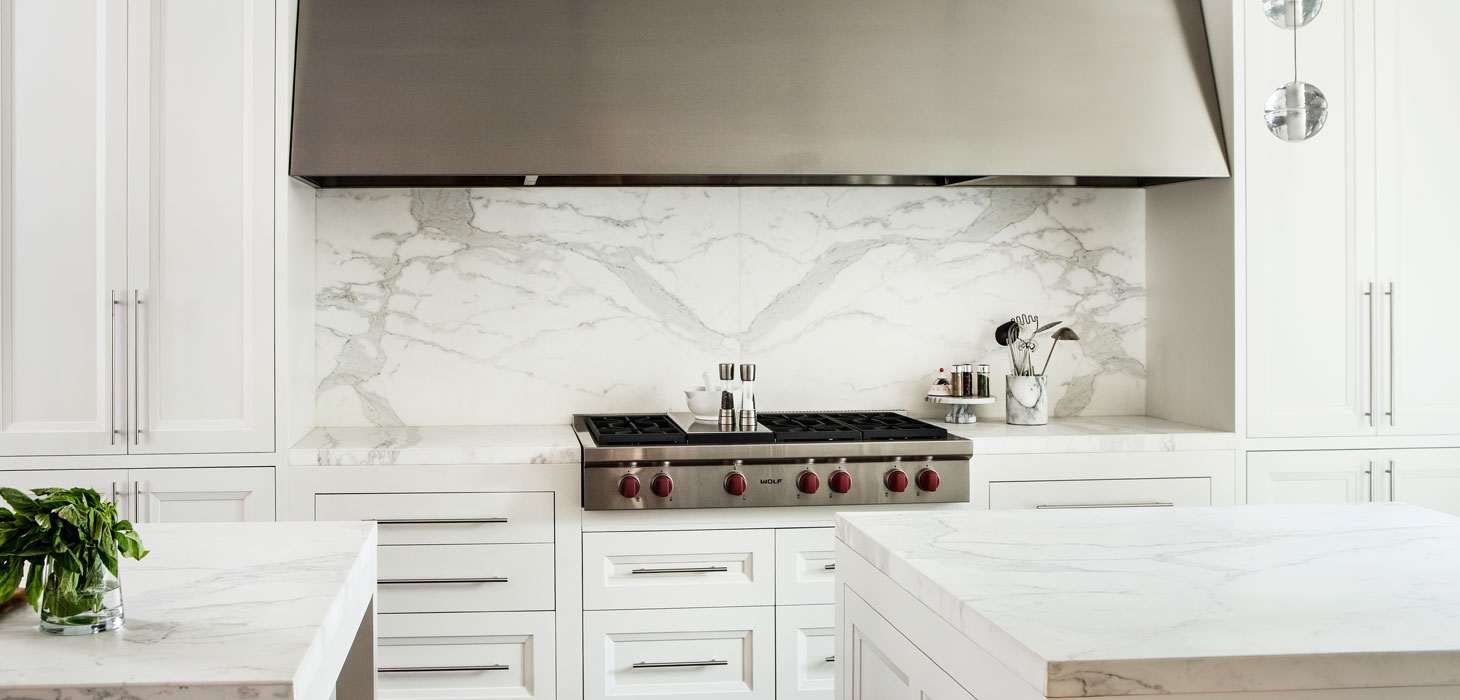 Wrapped Powder Rooms – Another bold design trend that will beg the question "are you brave enough to do this?" are fully wrapped powder rooms. These small spaces will be packing a big punch this year, by taking feature wallcoverings and wrapping them fully around a powder room. Let your style shine with vibrant wallpaper, chic shiplap, or floor to ceiling tile. The possibilities are endless with this quaint little space, so be inspired to try something new this year!
Oversized islands – In a time where traditions are being reworked and fashions are constantly evolving—case in point, this blog—so are the traditional dining room tables! Many homeowners are doing away with their kitchen tables and instead choosing oversized islands for their dining. The allure here is being able to dine informally while still being able to gather everyone around.
Wood – Wood accents & features heavily trend for 2020, but perhaps what's most surprising is the revitalization of natural wood cabinetry. The pendulum now swings back in favor of full-wood kitchens from the popular grey and white, but wood cabinetry isn't the only up and comer. Many designers and remodelers are installing butcher block countertops, wood-range oven hoods, and wood accent drawers. All of these wood features are versatile with respect to the style they can accompany and lend well for creating a space that feels warm and inviting for 2020. BONUS: Not ready to fully embrace a full-wood kitchen? Stick with just a wood island instead! A wood island will add contrast and dimension to your kitchen!
Color, Color, Color – Contrasting with black and blue, in 2020, expect to see a lot more of warmer colors. Coral pinks, pastel greens, and golden yellows all make way to be popular amid furniture and décor. And while neutrals remain widespread amongst designers & remodelers, these subtle colors add a healthy dose of warmth without being too ostentatious. BONUS: 2020 will also be the year to design around wellness and well-being. Designers are planning spaces that captivate a sense of calm, relaxation; utilize these warm hues with creamy neutrals to create the perfect balance of serenity in your home.
Feeling inspired? Ready to rethink, revamp, and remodel your home this year? Give us a call for your FREE in-home consultation!
*Images Courtesy of Google. Resource: Houzz.